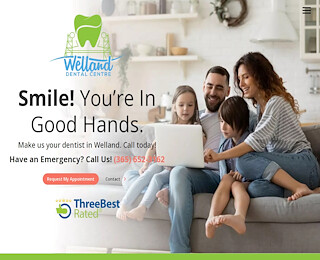 Choose a Welland dentist for your family who offers 24-hour access to dental care when it's needed- Welland Dental Centre has your family's best interest as the focus of all we do. We're the right dental practice to meet your needs, with a broad range of services, including:
General dentistry, for beautiful smiles that tell your story
Cosmetic procedures to enhance your smile
Restorative dentistry to create a more beautiful you
New technology treatments, including digital imaging and clear orthodontics
Treatments for all ages: Fluoride, TMD treatment, sports mouthguards, and more
Should I Switch Dentists?
If your Welland dentist fails to meet the needs of your family, switching dentists can mean more positive checkups for everyone. If you answer 'yes' to any of the following questions, it's probably time to find a new dentist:
Does my dentist require me to drive to other locations for specialized dental services?
Have I ever been treated unfairly during an emergency dental situation?
Has anyone in my family experienced pain while in the dentist chair?
Am I paying too much for quality dental care?
Welland Dental Centre can provide a better patient experience for every member of your family when you choose us for all of your dental needs. New patients at Welland Dental receive a free electric rechargeable toothbrush with the completion of an oral exam and radiographs- our way of helping you achieve a more beautiful smile.
Is Affordable Dentistry in My Location?
When you see Welland Dental Centre for your next checkup, cleaning, root canal treatment, filling, or any other dental procedure, we'll do our part to keep down the costs of treatment. Our staff will look over your dental coverage with you and help you maximize your benefits to get more out of your plan- we'll submit claims on your behalf as well. Understanding your coverage is the first step in lowering the cost of dental care. You'll also find our location convenient for scheduling multiple errands in one trip since our practice is close to popular shopping locations.
Welland Dental Centre is Welcoming New Patients
Leave your fear of the dentist at home and see our Welland Dentist for pain-free checkups, cleanings, and treatments. If you feel anxious about your next appointment, we'll help you relax more comfortably with sedation options to meet every need. Advanced dentistry practiced at Welland Dental Centre improves your patient experience and makes it easy to smile.
Family Dentistry Under One Roof
Why drive to multiple dental locations for specialized treatment when Welland Dental Centre eliminates referrals? The best reason of all to choose us is seeing your family's smiles after each checkup. With patient education and new technology, you'll notice an improvement in your family's oral health- results that last a lifetime. Trust our Welland Dentist for preventive treatments that help you avoid more costly treatment later in life, restorative dentistry to help you achieve your smile goals, and specialized services for patients of every age.
Welland Dental Centre
9057357571
7 Riverside Dr, Welland, ON L3C 5C6
View Larger Map