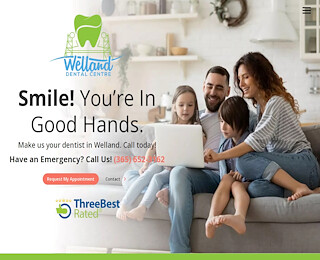 When it comes to teeth whitening in Welland, you have many options available to you. Make sure the choice you make is safe and effective- see our staff at Welland Dental Centre for beautiful white teeth that make a great first impression. We offer two convenient options for patients to get the bright, white teeth they've always wanted:
At-home treatments
In-Office sessions
Can I Get White Teeth From a Toothpaste?
Unfortunately, you won't see good results from a store-bought whitener. At Welland Dental Centre, we hear stories from patients who recount their disappointment from purchasing and using over-the-counter 'whitening' gels and pastes that left their teeth exposed to the elements, doing little to remove stains or whiten teeth. OTC products compromise tooth enamel and cause sensitivity to heat and cold- another reason to leave them on the shelf. For the best results, schedule an appointment with us for pro-grade teeth whitening in Welland- you'll be happy with the results.
How Can I Make Teeth Whitening Results Last?
Use the brand of toothpaste recommended by your dentist for the best results between whitening sessions. Once a week, make a paste of baking soda and hydrogen peroxide in the palm of your hand and dab your toothbrush into the paste, brushing gently, covering the surfaces of each tooth, and rinsing well after treatment. Avoid red wine and foods that stain for 2-3 days after professional whitening. Most important, see us twice-annually for professional checkups and cleanings for your brightest, whitest smiles.
Lifetime Smiles at Welland Dental Centre
We're not just interested in providing a one-time treatment to improve the appearance of your smile- at Welland Dental Centre, we want to be your family's only dentist for preventive checkups and procedures that help you avoid costly treatment in the future. When you trust us with your oral health, you'll notice fewer dental issues between visits to your dentist. We'll meet your needs with a broad range of options for preventive, restorative, and cosmetic dental care. Feel free to browse our online resources, including our 'Services' section, 'Specials' page, and our updated 'Blog'.
Anxiety-Free Dentistry
Painless office visits make us popular throughout the greater Welland area- you do not need to fear spending time in the dentist chair, whether it's time for a cleaning or you need more extensive dental services. Feel free to request sedation during any treatment at Welland Dental Centre- our goal is to provide a relaxed, comfortable experience while you visit our practice.
Convenience is more than a concept to our staff at WDC- we're committed to being there for you when you need us by staying open on Fridays and Saturdays, warmly welcoming your walk-in visits, and offering 24-hour access to emergency dentistry. Make us your family's first call for affordable treatments, including low-cost teeth whitening in Welland. You'll see beautiful results under our care as we help you achieve the smile of your dreams.
Teeth Whitening Welland
Welland Dental Centre
9057357571
7 Riverside Dr, Welland, ON L3C 5C6
View Larger Map