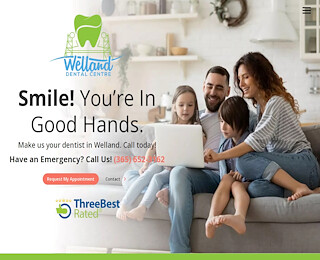 The embarrassing appearance of metal braces prevents many people from seeking orthodontic treatment. But what if there was a way to achieve your smile goals without metal bands, brackets, and wires? Clear Invisalign in Welland makes it possible to have beautiful straight teeth without permanently cementing metal brackets and bands to your teeth. Treatment is discreet, virtually undetectable to those around you, and every bit as effective as conventional metal orthodontics.
What is Invisalign?
Clear plastic Invisalign aligners replace traditional metal braces and remain the most requested method of straightening crooked teeth, closing gaps, and correcting misalignment. If you're a candidate for Invisalign treatment, you'll experience shorter office visits with no painful wire adjustments. Most patients start to see results within the first month or so, with a total treatment time of about 12-18 months. There are numerous benefits of Invisalign, unavailable through conventional orthodontic treatment:
Removable aligners make Invisalign the most comfortable braces on the market; wear your aligners for at least 22 hours each day to see results.
Remove Invisalign when it's time to brush, floss, or eat, for better oral hygiene during orthodontic treatment.
Enjoy your favourite foods. Remove aligners before eating and replace after meals.
Improved comfort. Smooth plastic aligners snugly hug your teeth.
No peer pressure. Invisalign is practically invisible.
Does Invisalign Work?
Patients with crooked, spaced, or misaligned teeth see the most beneficial results through Invisalign treatment. You can schedule a free consultation for Invisalign at Welland Dental Centre to find out whether clear orthodontics will work for you. Patients of all ages prefer Invisalign's discreet profile more than two-to-one compared with metal braces – and it's easy to see why. With Invisalign, teeth begin to move into place quickly, with some patients completing treatment in about half the time as other braces.
Request Invisalign in Welland
Find out more about the advantages of clear orthodontic treatment at Welland Dental Centre. We look forward to the opportunity to provide answers to your questions and help you determine the best course of action for beautiful, straight teeth. If you're a candidate for Invisalign, we can show you what your new smile will look like before the first treatment begins, through the innovation of digitized technology. If you like what you see, we'll set up a flexible payment plan to make Invisalign affordable for you.
More Reasons to Love Welland Dental Centre
As a full-service dental practice serving the Welland community, we offer all of the dentistry services your family needs for a healthy smile. From general dentistry and orthodontics to restorative and cosmetic dentistry, we reduce out-of-office referrals by providing what you need under one roof. It's never been easier to achieve your smile objectives.
Invisalign Welland
Welland Dental Centre
9057357571
7 Riverside Dr, Welland, ON L3C 5C6
View Larger Map