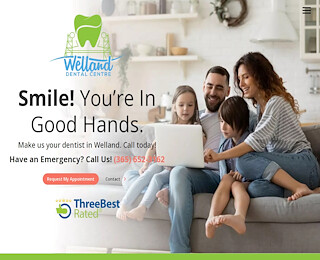 Dental Restorations In Welland Can Transform Your Smile
If you have damaged, missing, or worn-out teeth, you probably find it difficult to share a smile or speak in front of others. That's to be expected. Studies show that the way you feel about your smile affects your self-confidence and mood. If you're not fully satisfied with the current look of your teeth, your dentist at Welland Dental Centre can help with dental restorations.
There are two types of dental restorations that can make a difference – direct and indirect restorations. Here's some more information to get you acquainted with each …
Fillings are direct dental restorations in Welland. They are placed in a tooth with a cavity to prevent further decay and ensure it maintains its appearance and function.
Indirect dental restorations in Welland include onlays, inlays, and crowns. Inlays and onlays are fabricated to fill badly damaged molars and premolars. They are ideal when a filling just won't do the job. Crowns are used to cover more of the tooth's surface when extensive damage has occurred due to decay or injury. Crowns are incredibly strong and designed to look and function just like your natural tooth.
Which Type Of Dental Restoration In Welland Is Right For You?
Our team is experienced in all of the dental restorations mentioned above. We encourage you to call us for a no-obligation consultation to find out which one is best for your smile and to meet your unique needs. We will take a variety of factors into consideration, including your current oral health, medical history, and more.
Dental Restorations Welland
Welland Dental Centre
9057357571
7 Riverside Dr, Welland, ON L3C 5C6
View Larger Map