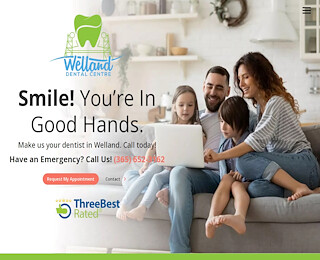 Do you want to feel comfort and confidence again? Well you're on the right track. Here at Welland Dental Centre, we can give you back a comfortable, fully functioning mouth and a healthy, confident smile with dental implants in Welland.
This restorative option will help you smile with confidence. Thousands of people are flashing smiles that have been beautified by implants, a fabulous tooth replacement technique that can be performed right here in our Welland dentist's office.
Step one. Dental implants in Welland are made of special biomaterials. They act the same way as your tooth roots do to secure a beautiful crown that you can see above the gumline. Once the implant is placed, we give it a few months to stabilize and become secure.
Step two. Then we permanently attach a natural-looking crown or replacement tooth that restores the form and function of a real tooth. We use dental implants in Welland to…
stabilize dentures
secure bridges
replace just one tooth
rebuild an entire jaw of missing teeth
restore your smile to its natural beauty.
The best part is that dental implants in Welland look and feel just like natural teeth!
Dental implants are reliable, and most patients can receive this service right in our office. But first, we will take the time to discuss your smile goals, give you treatment options, and we will always ensure your comfort while you're in our practice and after the treatment.
Dental implants have helped many of your neighbours eat, smile, and speak with renewed self-confidence. Could they do this for you too? Call us for a personal consultation. We'll help you decide if dental implants in Welland are right for you.
New patients are always welcome, so don't hesitate to get in touch today.
Dental Implants Welland
Welland Dental Centre
9057357571
7 Riverside Dr, Welland, ON L3C 5C6
View Larger Map