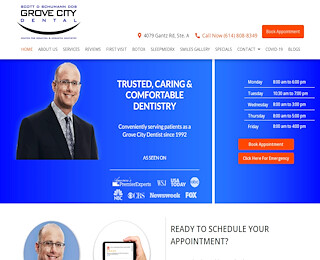 Dental implants are an excellent solution for patients who are missing teeth as well as those who suffer with dentures that use traditional fasteners. And, there is no need to fear the procedure. Your comfort is always a top priority at Grove City Dental.
What is a Dental Implant?
A dental implant could be described as an artificial tooth root that is custom created for the client and then surgically implanted into the jawbone. This process can aid in the replacing of one or more missing teeth using an implanted stud with a dental prosthetic such as:
a crown
a fixed bridge
snap on dentures 
The implant material is typically pure titanium, which makes it extremely biocompatible for most people. The jawbone will treat the implant as if it were made out of bone. Over time, bone cells in the jaw are able to grow (called osseointegration), attach to and assimilate to the implant. After an initial healing period, the implant is uncovered and connected to a post that will serve as the foundation for your new teeth.
Snap-On Dentures
Good candidates for "snap-on" dentures are healthy patients with no restrictions in terms of undergoing minor dental surgery. Whether you are new to dentures or have worn them for years, snap-on dentures offer a great alternative for partial or full dentures. Unlike conventional dentures that rest on the gums, a snap-on denture is anchored to multiple implant snaps for improved comfort and stability.
Any potential implant site will be assessed by Dr. Schumann to determine if there is sufficient bone density as well as gum thickness conducive to the placement of a dental implant. In the majority of cases, implants can be placed in our office using local anesthesia. More complex cases may require general anesthesia in a surgical environment. After surgery, a healing period of 3 to 6 months may be required before the replacement teeth or snap-on dentures are attached to the implants.
Caring for Dental Implants
After the permanent placement is installed, follow-up visits will be required including regular dental check-ups every 6 to 12 months. When caring for dental implants, special cleaning brushes and dental floss should be employed. We will provide the necessary instructions for proper cleaning and use of these cleaning aids. Please note that no metal scrapers should come in contact with implants, as metal can scratch and damage their surface. Patients should be aware that in some rare cases an implant can be rejected by the body, or it may fail to assimilate by the jawbone.
If you are considering dental implants or snap-on dentures, you should choose a dentist who is experienced and exhibits close attention to detail. In Columbus, Dr. Schumann is the implant dentist you can trust. Contact us to Book an Appointment today.
Dental Implants Grove City
GROVE CITY DENTAL
6148081700
4079 Gantz Rd, Grove City, OH 43123
View Larger Map