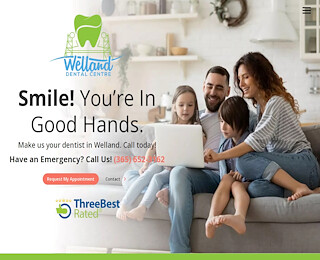 If you've ever lived through a less-than-positive experience visiting the dentist with your child, you probably appreciate the value of knowing a well-trained pediatric dentistry staff. Visits to the dentist with a young child don't have to end up in frustration, with tears and fearful sobs- see Welland Dental Centre when searching for a qualified child dentist in Welland. Our dedication to providing our youngest patients with quality dentistry includes patient education, gentle, comfortable treatments, and pain-free office visits that establish a positive relationship between your child and our staff.
How Often Should I Take My Child to the Dentist?
The ADA advises parents to bring their children in for checkups starting at six months of age and every six months after. Early dental visits are essential for two significant reasons:
Dental care at an early age sets the stage for how your child feels about visiting the dentist. Choosing the right child dentist in Welland will make a positive impact.
Your child's dentist needs to check newly erupting teeth to make sure they're coming in correctly and see that your child is learning how to brush and floss correctly.
Twice-annual visits will help your child understand the benefits of regularly scheduled appointments. More positive checkups encourage children to take better care of their teeth at home.
What Are the Benefits of Choosing a Pediatric Dentist?
You'll need to spend time with your child's dentist to learn how to teach at-home brushing and flossing methods that are confusing to children at first. With time and practice, they'll master the skills with your help. Additional advantages of seeing a child dentist in Welland include:
Smaller equipment designed to fit the patient's mouth
Trained staff committed to providing gentle care
Cavity prevention discussions between your child and the dentist
Establishing an on-going patient-dentist relationship that carries over to adult years
Your Child Dentist in Welland
At Welland Dental Centre, we remain committed to providing every member of your family with quality treatments and services that lead to a beautiful, healthy smile. See us for your child's twice-annual fluoride treatments, dental sealing, sedation for fearful children, early orthodontic screenings, pain-free digital imaging, laser treatments, tooth-colored fillings, and a full range of preventive, restorative, and cosmetic options. You'll find most treatments your family requires offered in-house at Welland Dental Centre; reducing referrals means a more positive experience when you need dental care.
Pain-Free Dentistry
Children are not the only patients fearful about spending time in the dentist chair- the American Dental Association estimates more than 90% of patients experience some level of fear or anxiety when it's time to see their dentist. We'll do our part to alleviate fear by offering painless treatments and services. Our advanced equipment and newest treatments provided at our practice eliminate apprehension before and during procedures. Keep us in mind when looking for a new family dentist or when you need emergency access to a dentist 24-hours a day.
Child Dentist Welland
Welland Dental Centre
9057357571
7 Riverside Dr, Welland, ON L3C 5C6
View Larger Map